Casio to release Uterocervical Observation Camera and Camera Stand in the UK.
In order for you to experience the latest technology, we are offering a free trial for medical specialists. Please contact us at medicalenquiries@casio.co.uk, if you want to test the new colpocamera & colpo stand.
---
Our Mission
---
Reaching Truth through Imaging Technology
Vision : Support patients with early detection
Mission : Support doctors' consultations by providing service / hardware utilizing imaging technology
Value : Improve accuracy & Efficiency of medical care
---
What is D'z IMAGE?
---
Image-based diagnostics innovations through
medical-engineering collaboration
Based on its R&D concept of
"reaching reality through imaging technology,"
Casio has formed a medical-engineering collaboration
that leverages its long history of ground-breaking image
processing technology to generate innovations
in image-based diagnostics.
Our goal is to make meaningful contributions to medicine
and to society more broadly by developing solutions
that will not only provide patients with more accurate and
effective examinations, but also help physicians in clinical
settings to work more effectively and make earlier diagnoses.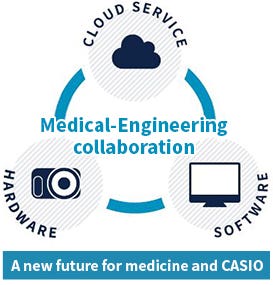 ---
About Dermatology
---
D'z IMAGE
total support
for dermatology
In partnership with leading doctors on the frontlines of medicines, Casio has developed equipment with simple configurations and smart operations to facilitate the handling of many functions required for dermal observations. These new tools provide comprehensive support for doctor's consultations, supporting the key processes of observation, recording, utilization and learning.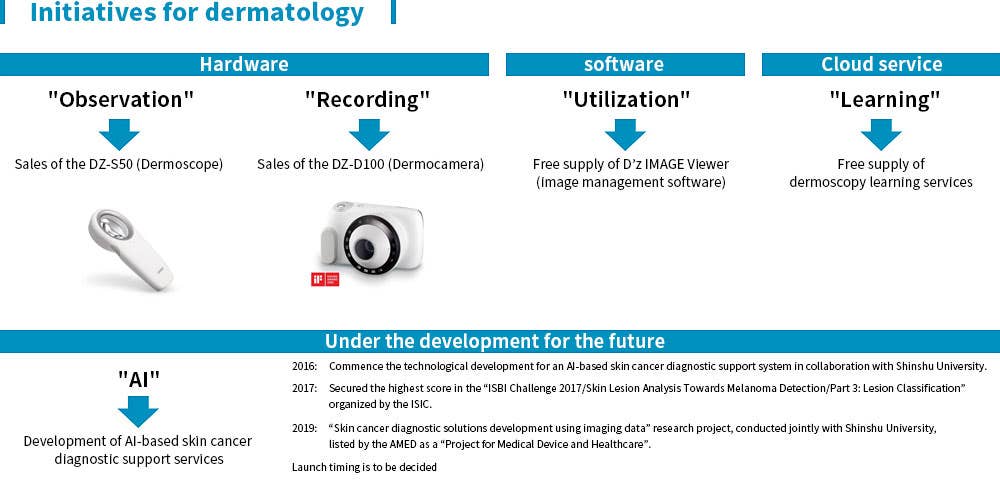 ---
News from CASIO
---
Press Release
Exhibition & Meeting (PAST)
Arab Health
Live: June 21-24,2021 / Dubai World Trade Center
Online: May 23–July 22, 2021
Virtual World Congress of Dermoscopy
Online: June 10-12,2021
British Association of Dermatologists – 101st Annual Meeting
Online: July 6-8,2021
AAD Summer Meeting
Live: August 5-8,2021 / Tampa, Florida USA
MEDICA2021
Live: November 15-18, 2021/ Düsseldorf, Germany
Dermatologie KOMPAKT & PRAXISNAH
Online: February 18-20,2022
AAD Annual meeting
Live: March 25-29, 2022 / Boston, Massachusetts
27th WONCA Europe Conference
Live: June 28-1 July, 2022 / London UK
Guidelines Live
Live: November 22-23 / London UK
Casio Dermoscopy Meeting
Online: May 24, 2023
British Association of Dermatologists – Annual Meeting
Live: June 27-29, 2023 / Liverpool UK
Exhibition & Meeting (SCHEDULE)
---
PARTNERSHIP
---

By applying Casio's original core digital image conversion technology to dermoscopy and establishing structural enhancement conversion and blood vessel enhancement conversion technologies based on the extensive case data provided by Tokyo Women's Medical University coupled with the knowledge of our two consulting doctors, we have succeeded in creating new dermoscopy images. In images of structures such as melanocytic lesions, this reveals vessel distribution patterns and lesion structures that are difficult to identify in normal dermoscopy and allows them to be observed. This makes it much easier to interpret dermoscopy findings than was previously the case. By comparing and contrasting original and converted dermoscopy images, the colors and forms in lesions can readily be observed and their features identified.
Head of Dermatology at the Tokyo Women's Medical University Medical Center East

Professor Masaru Tanaka

Director of Sato Dermatology Clinic

Dr. Toshitsugu Sato

Joint development of image analysis toolsEvaluation of

Dermatology camera DZ-D100

Joint development of image analysis tools
Evaluation of

Dermatology camera DZ-D100

To learn about dermoscopic examination, it is essential to refer to large amounts of high-quality case data. D'z IMAGE provides access to dermoscopy imagery stored at Chiba University Hospital and Shinshu University Hospital, and publishes them as case data with their associated findings and other data. As new case data is added in the future, the services will be further improved so that this case data can prove useful in various different forms for learning, promoting the even more widespread use and progress of dermoscopy.
Senior Lecturer, Department of Dermatology, Chiba University Hospital

Dr. Yaei Togawa

Assistant Professor, Department of Dermatology, Chiba University Graduate School of Medicine

Dr. Yosuke Yamamoto

Providing case data
Joint development of

Dermatology camera DZ-D100

Providing case data
Joint development of

Dermatology camera DZ-D100
Senior Lecturer, Department of Dermatology, Shinshu University School of Medicine

Dr. Hiroshi Koga

Assistant Professor, Department of Dermatology, Shinshu University School of Medicine

Dr. Akane Minagawa

Providing case data
Joint development of image management software
Evaluation of

Dermatology camera DZ-D100


Joint development of an AI-based diagnostic support system

Providing case data
Joint development of image management software
Evaluation of

Dermatology camera DZ-D100


Joint development of an AI-based diagnostic support system
---
AI Diagnosis Support
---
Launch timing is to be decided
---
Contact us
---
For All UK & Ireland Enquiries